QUOTATION OF THE DAY
"I don't need a whole lot to eat, but this month I know I'm not going to buy any meats."
LEON SIMMONS

, 63, one of more than 47 million Americans whose food stamp allotment was cut this month.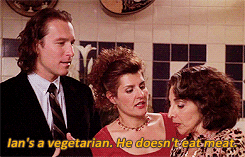 What do
you
mean he
don't eat no meat
?
Tomorrow is Scouting for Food Day. Do your fellow man a favor and donate food to your local Cub/Boy/Eagle Scout so they can fill up our - or your - local food banks.