Happy Valentine's Day, lovers! I myself am not a huge fan of VD (either meaning). I don't hate it or run screaming from it like either one of my husbands, but I don't really embrace it either.
The Spouse hates having to live up to VD expectations. And, I'll admit, I expect flowers for VD. (I don't care who gets them for me. I'll buy them myself if I have to.) But I don't expect nor want jewelry or gigantic stuffed animals. A fancy dinner would be nice, but that's only because I really like to eat. The Other Spouse hates VD because he is a hopeless romantic who hasn't found that special someone to spend the day with, but I keep holding out hope. I strongly support gay marriage because one day I hope he marries a well connected rich man with a beach house and has a full open bar at the wedding.
But now I have two men in my life who adore Valentine's Day. I received the most awesome pinch pot yesterday. I was going to bring it in to my office to join the other made-with-love pottery in my collection, however, Batman decided it should stay home and reside in our new "collection cabinet" where the only other occupant is a box of spare hardware.
Tell me this doesn't melt your heart: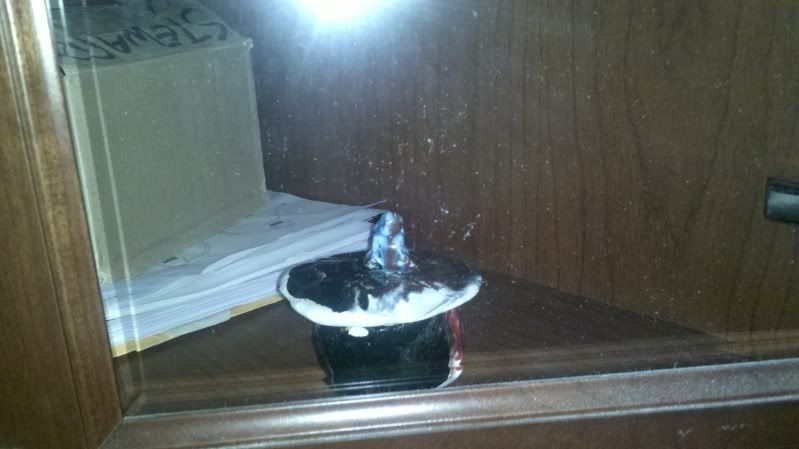 It is quite possibly the best VD gift I have ever received, aside from my stuffed dog Jojo that I received when I was 7 and slept with for many years until the Skye Dog destroyed him in an episode I like to call "The Rise of the Phoenix." But that's a story for another time.
I spent my lunch hour running around downtown trying to find the perfect (not too expensive, not too extravagant) gifts for them for VD. I found light up battery powered spinning tops that look like UFOs. I think they will be a hit. They are also each getting a frosted sugar cookie. I think that's pretty good.