The back to back disasters last week threw me off my normal summer/August/week schedule. Now where was I? Oh, yeah, vacation.
We got the dogs dropped off at jail, car packed, and hit the road EXACTLY ON SCHEDULE. That doesn't happen in my life, ever. EVER. We stopped south of Fredricksburg for lunch. Yes, I know, we were barely on the road, but it was lunchtime.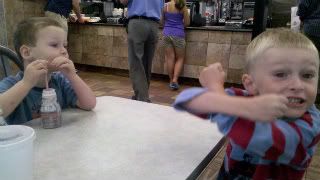 All the way down, Batman was bitching that he wanted to go to the hotel and Busch Gardens first, he didn't want to stop at the Lodge for two nights. Over and over. Finally told him to stop complaining, or we would turn this wagon around right now dammit! Robin fell asleep and took a 1/2 hour nap. Not what we hoped, but not too bad either.
Check in at Great Wolf Lodge wasn't too bad. Our room wasn't ready, but we were prepared for that. We changed and hit the water park. The boys loved Great Wolf Lodge!! We spent a few hours in the park, then our room was ready. We showered and changed, then headed to Sonic for dinner. Stupid Williamsburg Sonic, which should have been a highlight of our trip, did not have popcorn chicken. Batman ate apple slices while the rest of us ate dinner.
Conveniently, A WalMart was adjacent to Sonic, so we bought some snacks and groceries for the week, and got Batman some chicken nuggets from the Diet Coke store. Then back to GWL for the show and story time.
The show freaked my kids out. It was too loud and they did not like the talking trees. But they liked the story, and learning to howl afterward.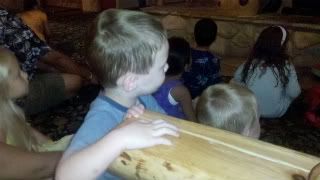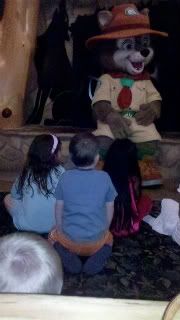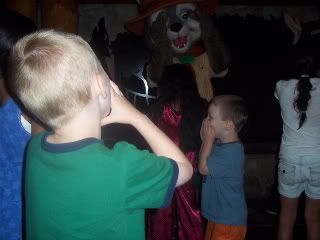 Bed time did not go well. They were pumped up over vacation, then we put them in bunk beds, and we didn't have a door to close. Not great. They were up until nearly 11pm. We spent all day Tuesday in the waterpark, aside from a three hour nap, during which time Batman wet the bed. We had lunch at the GWL outdoor restaurant and saw a snake. After naps, I got Chicken Nugget store and Sonic for dinner. We ate in our room, then went back to the water park for the rest of the evening.
Robin liked the lazy river and the beach/wave area the best. He liked the baby pool and waterslide area at first, but it was a little colder than the rest. He tried one of the little kid waterslides only because I pushed down, convinced he would love it. A 7 year old caught him for me at the bottem, and he said he wouldn't go on it again. Ok, fine. He was mostly content to sit on top of me on a tube while we floated down the river or rode the waves. And I was happy not to have to chase him around. We got Batman to go on one of the biggest waterslides, but he would only go on one of the three he was big enough to ride. The Spouse and I would take turns handing Robin off.
The kids were exhausted, but still hard to get to sleep that night. I helped shower them off, then I took my phone and a magazine and headed off to do laundry (not a planned excursion, but didn't want dirty pee laundry sitting around in a hot car for a few days.) Spent hours in the laundry room and clothes were still damp. I hung them to dry in the room.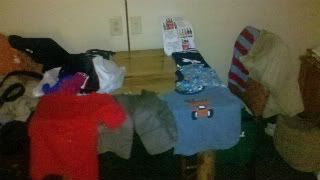 We splept in the next morning and decided to do some land based things at GWL before we left. I bought tickets from the concierge while The Spouse took the boys to the video arcade. We packed our stuff into the wagon and we were off. Next stop:
Jamestown
.
We had a surprisingly good time at Jamestown. It wasn't too hot and the boys found the stuff there pretty interesting. The outdoor exhibits were really interesting. We didn't go to the indoor museum and Batman was disappointed. We told him we would next time.
Indian Village. The
Powhatan Indians
were living in the area when the white man arrived. I'd tell you the story of
Pochahantas
, but Disney did it much better (ok, worse, but it's more entertaining.)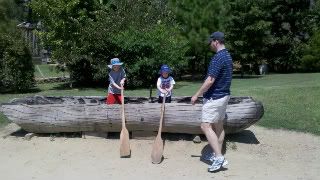 Ships on the James River: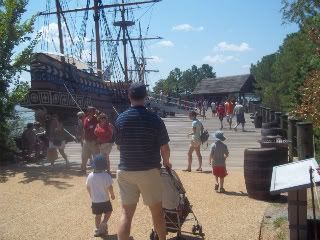 The ships are tiny, and were packed to the gills with people and food. It must have been hot, miserable, stuffy, confining, and altogether unpleasant. Though it must be pointed out that it would have been downright roomy and luxurious compared to the suffering of those on slave ships.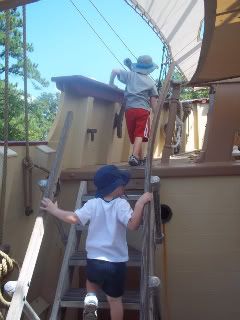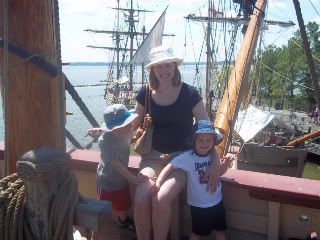 Then we were off to the fort: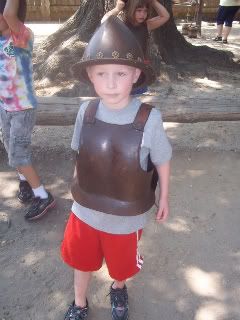 After that, we straggled back up the hill to the museum, ate lunch, bought some souveniers, then checked into our hotel for the next two nights. We stayed at a Fairfield Inn and Suites. I was not thrilled that our suite didn't have a door to close between the rooms. But it did have two full baths which came in handy when Batman announced he needed to poop, so Robin said he had to poop, too. And he did. On the potty!! We were so excited and I hoped that perhaps things were clicking, but nope. Nothing since then.
It took forever to get the boys to nap, then it took forever to wake them up, and they were grumpy for at least an hour. We hit the
Haunted Dinner Theater
for dinner. It was a little (lot) cheesy, but it was great to keep the boys entertained while we ate. It was an all-you-can-eat buffet with shrimp and crab legs. I was in heaven! I greatly angered Robin by daring to take this photo. He collapsed into a full tantrum that took forever to snap him out of.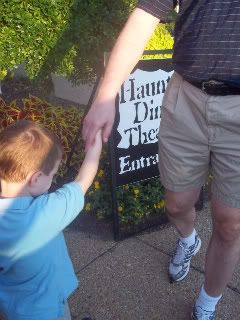 Thankfully, boys did sleep that night and we were able to relax and watch some tv in the sitting room area.
Thursday was Busch Gardens day. What can I say? It was fun. Boys had a great time. We got there sorta early, spent a few hours, ate lunch at Bretzels und Biers, went back to the hotel for a nap, then returned for the evening. We had smoked brisket for dinner in the French Village, then played some games so both boys won a stuffed animal. We stayed for the fireworks, then back home to bed. But not before someone kicked 20 ounces of lemonade all over the back of my wagon. I'm still pissed.
I was sick when I woke up Friday. Horrible cold. The Spouse took the kids to breakfast at the hotel and brought me back milk and cereal. We stopped at Kmart after we checked out, so I could get some Dayquil. We headed to Williamsburg for lunch and to walk around a bit. Batman was a bear, because it was the last day of vacation and he didn't want to leave. I know you're sad, kid, but don't be such a shit. They found a toy store and spent Batman's allowance on some Legos and Robin got a car. We ate lunch at the Trellis (?) then walked for a bit.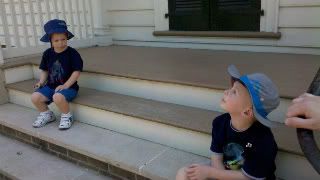 Eventually, boys were tired so we left. We headed home, drove through rain, stopped for gas, and made it home ahead of rush hour, more or less.
We arrived to find this in our kitchen:
Detail work on the kitchen is getting done today. So that's it. How I spent my summer vacation, by Jill Homer.