We are broke until payday so, of course, I am shopping. I hate my condo-era cheap beech Ikea table and green chairs in my new kitchen. I wasn't crazy about them when I bought them, but they were cheap and filled the need. The table is now rickety and the boys like rocking it back and forth just to be silly and drive The Spouse and I crazy.
Here's what I'm thinking for the new kitchen (best photo I have thus far - mostly done). Cabinets are cherry, hardware is brushed nickel.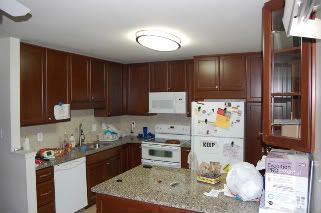 I found this table and chairs at Kmart, of all places. The table and four chairs are on sale right now, coming in at under $250. Since the boys are still so young and since we don't know how much longer we will live in our townhouse, I don't want to invest a lot in a set. Cherry and black.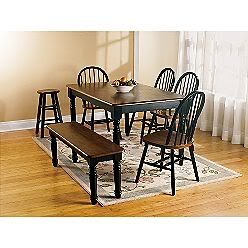 I found this rug at Target and thought it would be a nice touch. Our living room has red throw pillows, so I think the red in the kitchen/dining area would pull together nicely. Or not. I don't really care. I'm not Martha Stewart.
So far, only dreaming...